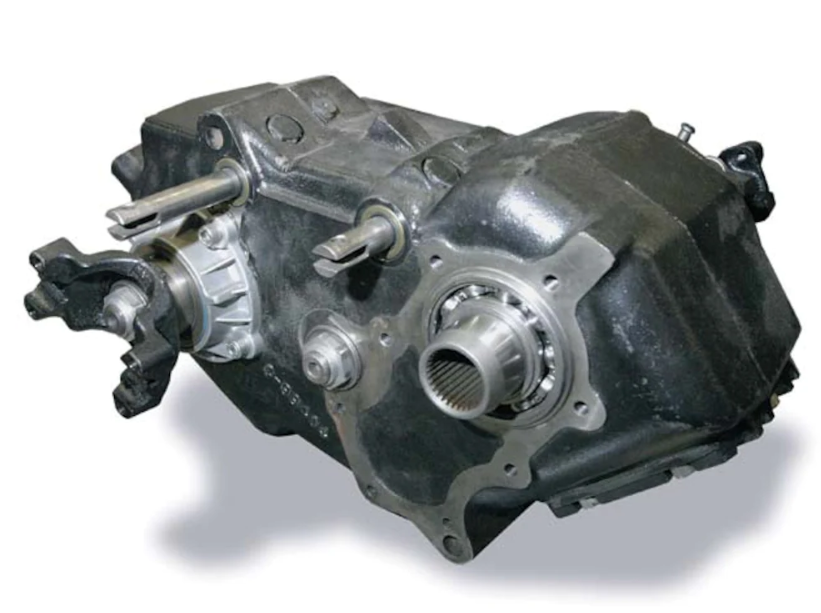 Chrysler's New Process Gear Division built gear drive NP205 transfer cases for 1969-1974 and 1980-1993 Dodge Trucks. The 1969-1974 version was a remote mount unit used in W100, W200, and W300 4x4 Trucks. For the 1975-1979 models years, Dodge opted to use the troublesome NP203 full time transfer case instead of the reliable NP205, but effective with the 1980 model year, the NP205 was again in the Dodge lineup as the sole transfer case offering for W300 1 ton 4x4s. The 1980 and newer version is a direct mount transfer case and it was used in 1980 W300 and 1981-1993 W350 models plus Cummins powered 1989-1993 W250 trucks. For some years the NP205 was also an available option for gas powered W-250 trucks.
A 23 spline male input shaft is used on all 1980-1988 Dodge NP205 transfer cases. For the 1989-1993 model years, the 23 spline input is used for diesel trucks with automatic transmissions and for all gas engine models. 1989-1993 W250 and W350 trucks with the Cummins Diesel engine and manual transmission have a heavy-duty 29 spline male input shaft. Also the most of Diesel/manual transmissions models also have a stronger rear output shaft.
The 1993 Dodge truck was the last production vehicle to use the rugged and reliable New Process NP205 Transfer Case.