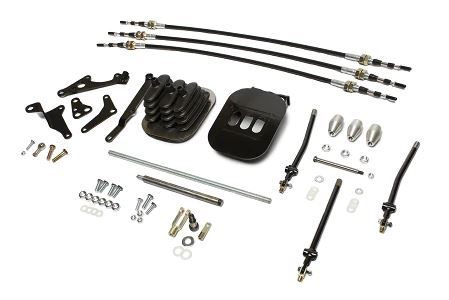 Cable Shifters For Single and Dual Transfer Cases
As our sport progresses, so do our drive-trains. With the latest dual transfer case kits, extreme clocking rotations, and non-stock combinations we felt the need for a far more flexible system than what linkage type shifters could provide.

Typically a transfer case shifter linkage consists of a fixed pivot point on the transfer case or adapter, with connecting rods between the transfer case shift rails and shifters in the cab. For the few with stock transmission and transfer case combinations they work fine, but for many, especially those with modified drive-trains, they leave something to be desired. When body lifts are added, transfer cases are clocked, or a dual transfer case kit is added, stock linkages are no longer adequate. For these reasons and more, we have developed our line of Transfer Case Cable Shifters.