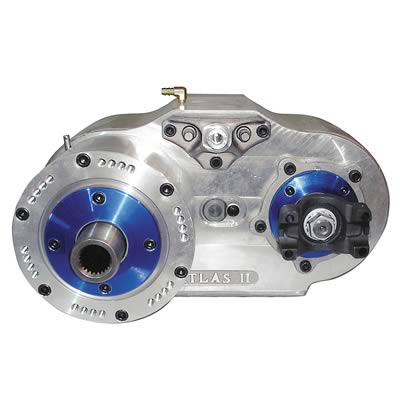 The Atlas 4 speed is essentially two parts cleverly combined in a single compact package - like a doubler all in one. The first part is the planetary reduction assembly which is mated directly to the main case.
The main case of the 4SP is similar to the 2-speed Atlas but it does have some differences. All of the gears, with the exception of the input gear, are the same. The front output uses all of the same parts. The rear output shaft is different in the 4SP and different bearings are used in some spots. Both front and rear outputs are 32-spline standard. The main case of the 4SP is the same raw casting as the 2SP, but has some machining differences to make it into a 4SP. The main case functions independently from the planetary reduction assembly and retains all of the normal Atlas features such as: front and rear outputs controlled independently, the "front only" option, and synchronized shift-on-the-fly design. The main case can be shifted via standard twin-sticks or by the new cable shifters. It is available in either 2.0:1 or 3.8:1 low-range options. Combined with the planetary reduction assembly's 2.72:1 low range the available 4SP rations are 1:1, 2.0:1, 2.72:1, & 5.44:1 or 1:1, 2.72:1, 3.8:1, & 10.34:1.
The 4SP mates directly to 21, 23, 27, 29, 31, 32 and 34 spline transmission outputs. It has a circular bolt pattern on the front, identical to the one found in Jeep vehicles. Advance Adapters has a variety of different adapters available to retrofit the 4SP into nearly any application.