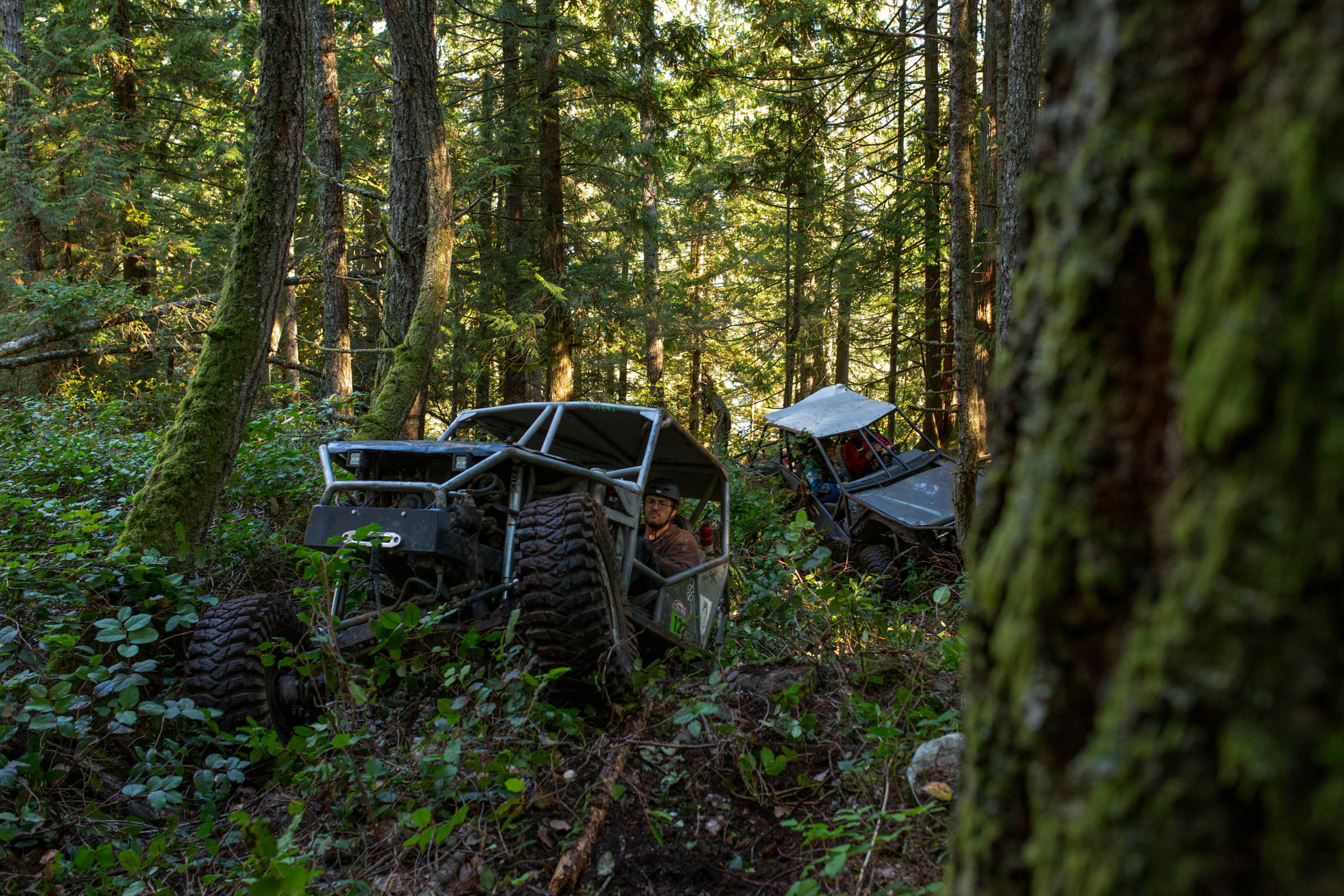 Crawl up any terrain and best your friends to the top with an Underdrive
LOWER GEARING. ON DEMAND. CUSTOM COMBINATIONS
Increase your options by using an Underdrive to
:
Get a significantly lower overall low-range.
Effectively create 4 available transfer case ratios.
Have the flexiblity to keep your existing transfer case or adapt it to the one you want.
The excitement from adding your first set of larger tires?
The increase in control and confidence the first time using lockers?
The feeling of satisfaction and capability conquering that elusive obstacle?
IT'S TIME YOU GET THAT FEELING AGAIN.
An Underdrive will push you to the next level of control and capability.
Produces high revving on the highway and non-substantial gear reduction
LOWER TRANSFER CASE GEARS
Leaves you with only two options; super low 4x4 and 1:1 4x4.
Maintains your highway driveability and offers up to 4 gear ratios for precise speed and control over terrain.
Designed to use common OEM transfer case internals with proven strength and durability through years of use and vehicle generations.
Underdrives range from 4" - 10" depending on the transfer case it's paired to.
OEM internals allows you to find affordable and accessible replacement parts like seals and bearings all from standard parts dealerships.
CHOOSE THE ONE THAT SUITS YOU
Brand-new planetary gears, assembled in-house, and anodized black. The Blackbox is the premium option in Underdrives. Blackboxes have the fastest and easiest assembly process and offers some of the shortest lengths, starting at only 5" long.
Mount directly to any 6 Bolt Round transmission (adapter plates are available for non-6 Bolt Round patterns).
Bolt directly to an Atlas, Dana 20/300, Ford/GM NP205, TWF Hero, Landcruiser, or stock 6 Bolt Round transfer case. The choice is yours!
No need to source donor parts, everything you need to install the Blackbox comes packed and ready for you.
The Ecobox is the budget-Blackbox, built with the DIY enthusiast in mind. The case is shipped empty, and the customer sources and installs the necessary internal gears from a donor transfer case. Achieve the same level of control - on a budget!
Mount directly to any 6 Bolt Round transmission (adapter plates are available for non-6 Bolt Round patterns).
Bolt directly to an Atlas, Dana 20/300, Ford/GM NP205, or stock 6 Bolt Round transfer case.
Have access to all the same Blackbox features and accessories like shift kits and clockability.
Calling all Toyota and Lexus owners! The time of dated, loud, and leaky gear drive doubler kits is finally over. The Eco-Crawler uses an OEM chain drive planetary to give you a stronger, quiet, and easily configurable Underdrive kit. A variety of bolt patterns allows you to install this Underdrive in 1st to 5th-generation Toyotas!
Mount directly to all transmissions that came stock with a Toyota chain drive transfer case.
Bolt directly to your stock Toyota chain drive transfer case (non-Torsen), Toyota gear drive transfer case, Atlas, Dana 300, or Ford/GM NP205.
All Eco-Crawlers (except RF1A) use integrated shafts for a stronger connection to your transfer case, no couplers needed!
Keep to the extra-low-range-roots with a Dual Transfer Case (DTC) kit. NWF offers two DTC kits, one for an NP203 range box to an NP205, and one for a Nissan TX-10 range box to a 6 Bolt Round transfer case.
Both kits offer clockable positions, giving you the choice of where your transfer case sits.
Billet aluminum provides a lightweight, strong, and rust-resistant connection between the cases.
The NP203 to NP205 kit offers unique plates for 6 Bolt Round and Figure 8 patterns, no additional adapter plates needed.
BLACKBOX/ECOBOX SHIFT KITS
Check out our cable shift kits for a Blackbox or Ecobox setup. Cable shifters let you shift your kit at any clocked position you want.
A single-shift kit is available for the Eco-Crawler user that is using an electric transfer case or a non-Toyota transfer case. A triple-shift kit is offered specifically for Toyota transfer cases to perfectly integrate your transfer case and crawl box into one shift assembly. (Triple shift kit for dual gear drive transfer case setups are also available!)
DUAL TRANSFER CASE SHIFT KITS
We offer cable shifter kits for NP203 to NP205 dual transfer cases. Check out our twin stick kits if you're using the TX-10 to 6 Bolt Round kit.